See The Light (www.seethelightshine.com) is a company founded by pure passion for children, Christ and ministry. Created by a husband and wife, Dave and Pat Holt, See The Light brings the world of art into your home. The entire team, including the creators and artists, at See The Light show visible desire in spreading the word of Jesus Christ through this curriculum. By way of DVD, their goal is to share the gospel and biblical stories, teaching tons of art techniques along the way.
See The Light offers a range of DVDs and DVD sets for ages 5 to 18.
Art Class is offered as a box set for $99.99, they also offer each DVD individually for $14.99. This particular set is noted to be used for the first year, to be used as 'The Fundamentals'. There are 36 lessons total in this set. Within these lessons, children are taught basic art skills and progress to more advanced techniques.
Art Projects is also offered as a box set for $99.99. Just like Art Class, these DVDs may also be purchased individually for $14.99. This set will allow the student to create their own masterpiece by following several different artists' techniques and is recommended for the second year, ages 10 and up. This set includes an entire year of projects.
Bible Stories is another set offered by See The Light and is recommended for children 6 and up. Created for the younger students, this set may be purchased for $74.95. It includes 5 DVDs, each representing different biblical stories. The individual DVDs may be purchased for $14.99 each.
Cartooning is an individual DVD that may be purchased for $14.99. Covering the basics of cartooning and including other information like the art history of cartooning, this DVD is great for kids of all ages.
What We Received and How We Used It:
In our package, we received one DVD, God's Special Surprise. On this DVD, there was one biblical story and three art lessons.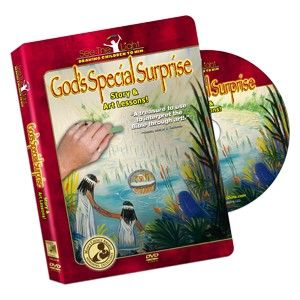 Before placing the art lessons in our class plans, I watched the DVD to plan accordingly. The lessons were very simple to understand and seemed to be very fun. I decided not to place this into our "school" time, but instead use it at random parts of the day. Before the first lesson, Kollin (6) and Kolt (4) watched the story God's Special Surprise, which was the story of Moses. On this particular day they woke up prior to my other younger ones and the time was perfect to introduce them to this DVD. The story immediately captured their attention and several times Kollin noted on how cool the graphics were throughout the storytelling. Immediately following the story, they completed the first lesson. The other two lessons were on different days, but before each new lesson they asked to watch the story again. So they did. And they loved it every time.
Kollin and Kolt never considered See The Light as part of school, but instead a fun activity. In my opinion, that's awesome. They were having so much fun learning about this particular story in the Bible and different art techniques that they never knew they were actually learning. That is amazing to me.
My Opinion:
Just the expressions of my two older boys and their excitement alone was enough to make this Momma pleased. I love, love, love the concept of this company. I was very impressed with how easily See The Light is able to mingle biblical stories with the ways of art. The boys loved the use of the black light too, it was really neat for them to do something completely new.
When I first watched the DVD to get the feel of the lessons, I noticed the story is all in one bit. I wished the story would have been broken up into three increments, one for each lesson. The boys loved the story and like I said before, they watched it before each lesson.
All in all, I really enjoyed See The Light. I appreciate their passion for children and their desire to share the gospel with so many through these art lessons.