IXL began it's journey as Quia in 1998 and after much immediate success, IXL Learning evolved into much more than just a few educational games. Quia Books was added shortly after in 2001, then in 2007 IXL was introduced.
IXL provides a learning experience for grades Pre K-12 in Math and grades 4-6 in Language Arts. With each family membership, up to three children may be signed up to use the program (you may add additional children for $2.00/Month/Per Child). Once you have entered the information on each child in their profile, the parent is able to choose a "secret word" for each child. This allows easy access for the child to log in on their own to only their account and begin right away with their tasks.
The point of IXL is to allow the child the opportunity to practice, practice, practice. With more than 2,500 skills on their site, there is so much to do. The site lists these skills by grade or topic and stays up to date with state standards.
IXL allows the parent to be completely up to date on their child's progress with reports and email updates. Within these updates, the parent is able to view the child's time spent, how many problems were missed and which skills were mastered. The parent can also see details on each skill that was attempted by the student.
What We Received and How We Used It:
For this review, our family received an Online Membership to both Math and Language Arts for the entire year. I signed up Kollin (6) and Kolt (5) for the Math portion of the site, being they were too young for the Language Arts portion.
I allowed the boys time each week to use IXL for Math practice. My goal was to be able to be working with one on their reading lesson and have the other on IXL practicing Math, then we would switch. And it worked beautifully.
Kollin stayed within the First Grade level of the site and really focused on solving for the unknown, adding two digits up to the sum of 18 and adding three digits up to the sum of 10.
Kolt tinkered between Kindergarten and First Grade. Within the Kindergarten region, he focused on patterns and within the First Grade topics he focused on
solving for the unknown, adding two digits up to the sum of 18 and adding three digits up to the sum of 10.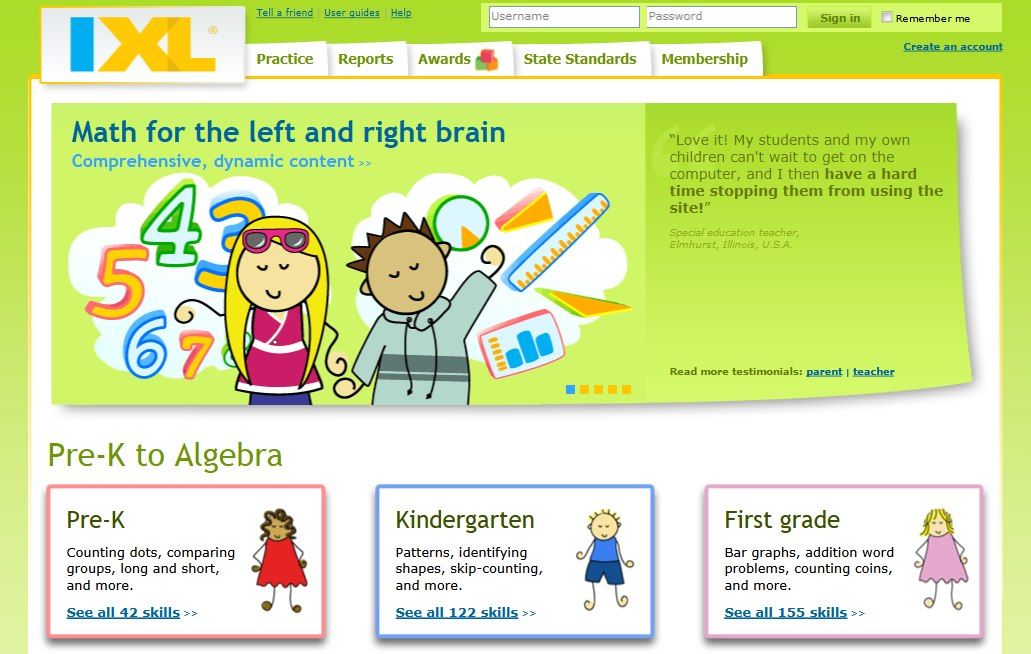 My Opinion:
I have loved becoming part of the IXL Family. Having this membership has allowed my boys the opportunity to practice and enjoy their mathematical skills. And to do it independently, I might add.
There were so many elements of the site I love. One is the choice of having the problems read aloud to the student (only offered for Pre K-1 students). For us, this offered the ability for Kollin and Kolt to have more independency in their practice time. I also loved having the reports emailed to me each week. This was so easy to refer to when planning the following week for their Math time. I was able to glance at their levels reached, see how many problems were completed and to see which problems were missed.
For the most part, the boys enjoyed working on this site. The screens were easy for them to follow and they loved working alone without Mommy hovering them. I heard Kollin say several times how he loved seeing his own progress (where he was out of reaching 100). Kolt, who is my "gamer" kid, loved the game board and earning his stars. This site was very rewarding for both of my boys.
I only had one concern on this site and that was the way the completion of the skills were to be approached by the student. Being the competitive nature of my kiddos, often they would work on the skill until the level of 100 was reached. Sometimes this would take a while, but they thought they had to continue until they reached that number. I would love to see the skills broken down into several pieces, accumulating 100 after completion of each bit. My boys just have a hard time stopping in the middle of completing a task, which they felt they were doing without reaching the top.
Overall, IXL has given my boys a fresh approach to practicing their Math skills and a very easy view for me to see where they are in their abilities.
Important Links:
Website: www.ixl.com
Price For Online Math Membership - $9.95/Month or $79.00/Year
Price For Online Language Arts Membership - $9.95/Month or $79.00/Year
Price for Online Math and Language Arts Membership - $15.95/Month or $129.00/Year
Register for Your Membership Here