Golden Prairie Press is a company created and ran by a self taught historian, Amy Puetz. Amy is a homeschool graduate herself, which I loved and really think gives her an insight into her customers! Amy Puetz has such a love for history and unveiling God's work in exciting stories.
Golden Prairie Press is an elementary age based company. Although the curriculum targets grades 1-6, the material could be used for older ages as well.
The curriculum in Golden Prairie Press uses a multi sensory approach to teaching the material. From music to skits to crafts, your child is certain to learn history in a fun and inviting way!
The Golden Prairie Press website also offers books for young boys and young girls, costume books, cookbooks and other history curriculums.
What We Received and How We Used It:
For this review, we received the Digital Heros & Heroines of the the Past: American History Curriculum ($98.99)
Our set of material had 6 downloads which included:
Heros and Heroines of the Past: Part 1
Heros and Heroines of the Past: Part 2
Historical Skits eBook
Additional Materials CD
Listen to Some History (MP3 audio download)
Sing Some History (audio download)
The main text (Parts 1 and 2) are broken down into two sections. The first section is based on a lower level and the second section has more facts, digging much deeper into the information for the older ones learning.
The Additional Material CD has some really great extras to supplement into the lessons. Coloring pages, timelines, maps, games and examples of historical art are naming just a few.
The Listen to Some History download includes 20 original speeches, sermons, poems and documents that are mentioned throughout the lessons. To give you an example, The Bill of Rights and The Constitution are a couple that are included in this download.
The Sing Some History download has some fun music to incorporate into teaching time. As much as my kids love music, they really enjoyed this part while working on the crafts. Some of the songs to enjoy are Yankee Doodle, Dixie and She'll Be Comin' 'Round the Mountain.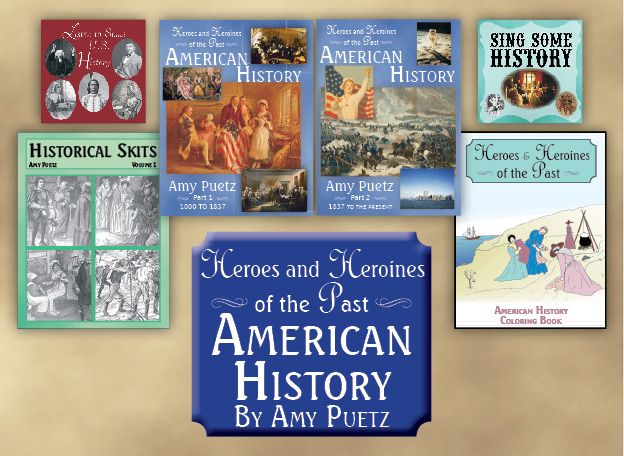 There is also an American History Coloring Book (9.99) offered to purchase in addition to the above materials.
What I Thought About It All:
I adored this curriculum and as much as the boys learned, I'd say they enjoyed it too.
Having the lessons broken down was wonderful! The first section geared toward their ages was just enough information to catch their attention. They easily sat through the time it took me to read the material to them. And anytime they had extra questions, I could just flip over and read them more of the in-depth facts.
The boys learn really well through the multi sensory approach.
The crafts were wonderful, easy, and didn't call for anything too crazy (which made it even easier for this Momma). Kruz (age 3) was able to participate with us as well.
Here we are making the teepee from Lesson 1 where we learned all about Native Americans. I enjoyed watching the boys work together and come up with creative ways to mimic what Native Americans would have decorated their homes in.
In these pictures, Kollin and Kolt are making their own canoes. We also made canoes out of playdough as well, which was another craft idea given in Lesson 1.
See Kolt's face? All smiles for Golden Prairie Press!
Important Information:
Website: http://www.AmyPuetz.com
Facebook: https://www.facebook.com/GoldenPrairiePress
Price for
Digital Heros & Heroines of the the Past: American History Curriculum: $98.99