Library and Educational Services is a small, family owned and operated company based in South Michigan. L.E.S. has been in business for 35 years now!
L.E.S. is a wholesale distributor, offering their products to libraries, schools (including homeschools, of course), churches, daycares, missionaries and more.
All of the material they choose to offer their customers are sure to be biblically based, matching with their own Christian values.
One of the many products they offer is the Go Science DVD set, featuring 7 DVDs.
The DVDs included in the set are geared toward ages 4-12 and are just $8.97 each.
The set includes the following titles:
Volume 1: Sound, Gravity and Space
Volume 2: Life Science and Weather
Volume 4: Motion, Friction, Electricity, Light
Volume 5: States of Matter and Water
Volume 7: Engineering, Design and Flight
In this series, Ben Roy, a Professor of Science at the University of Tennessee, teaches science in such a kid-friendly way that your kiddo is sure to love and be inspired by! The DVDs are filled with enthusiastic, energetic experiments pertaining to the subject.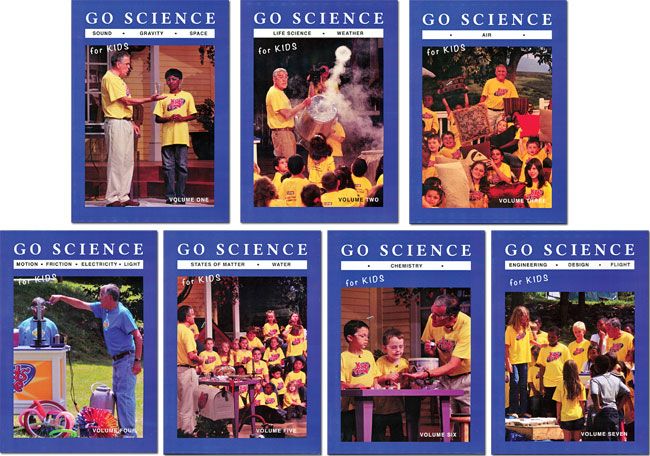 What We Received and How We Used It:
For this review with Library and Educational Services, we received two of the seven Go Science DVDs. We were able to choose which two DVDs we wanted and I decided to go with the Life Science and Weather Go Science DVD and the Engineering, Design and Flight Go Science DVD.
Our days here are filled with pool time, squeaky swings, bouncing on the trampoline and free bowling. Other than an occasional cartoon in the morning, my boys do not watch much TV during the day. Bedtime is about the best time for them, and by them I am referring to
Kollin (7) and Kolt (5),
to calm down long enough to really focus on something. I handed them the DVD cases as I put one of them in and the looks on their faces were priceless. I laughed a little and told them to just wait until they actually watched the DVD before they made crazy faces. We popped in the DVD (they chose Life Science and Weather first), I pulled their door and headed to my room. All I heard for the next hour was, "Whoa!" and "That's so cool!" and "Did you see that?"
Pretty much, it was pure bliss for this Momma.













What I Thought About It All:
Of course, if it is something my boys rave about and they ask to watch it again - I am going to love it too.
Although the DVDs are obviously based in the 80s, they were pumped full of fun, education-filled experiments. I loved that with each experiment, God is given credit. I just love that! Another thing I loved was how fast paced it was, this really kept their attention and they didn't get bored or sidetracked at all, even in a room full of Legos and HotWheels. That has got to say something!
I asked Kollin and Kolt what was their favorite part of watching the videos and here is what I got:
Kollin (7): "My favorite part was the experiment where they mixed really, really hot water with really, really icy water and it started steaming and blowing up smoke!"
(From Life Science and Weather)
Kolt (5): "My favorite part is how in all of the experiments a different kid gets to help."
(From Life Science and Weather)
Overall, I am loving having these DVDs in our collection for our home school. These are going to be great "extras" when we start digging into science in the upcoming school year. The prices are very reasonable and I definitely see us ordering more of these and attempting some of the experiments together at home.
Important Information: